Congratulations to TEAM STRICHEN!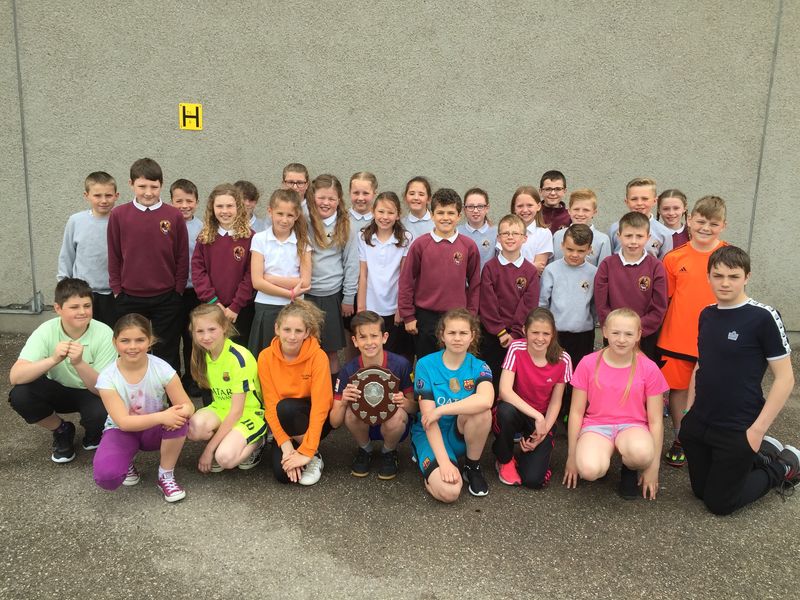 Team Strichen: Buchan Sports Triumph!
Winners for a THIRD Year!
On Tuesday 31 pupils from Strichen School set  off to Longside School to take part in the annual 'Buchan Sports' – an interschool sports event between all the primary schools in the Mintlaw cluster. The children were all very enthusiastic as the school had won the event for the previous two years…..and so they were hoping that luck might be on their side in an attempt to make it three in a row!
The weather was dull, drizzly and dreich…..but that did  not dampen their spirits at all.  In fact they all tried extremely hard and put 100% into their efforts. And their efforts certainly paid off….as they did indeed manage to retain the trophy by beating a very competitive Mintlaw team!
We would like to congratulate the children on their efforts…..they were so enthusiastic and had been talking about this for some time and did a great job in representing the school. To win this event three times in a row is a great achievement and we now look forward to finding out how many of the pupils will be invited to represent the Mintlaw Cluster team in the North Area Sports in June.
Great work TEAM STRICHEN!
Tam Strichen:
P7
Louise Downie, Alissa Brown,  Jenna Ross, Saffron Elmslie, Kimi Dickens, Jamie-Lee Annan
Matthew Richardson, Josh Jamieson Liam Taylor, Deniss Kolesniks
P6
Martha Fowlie, Olivia Richardson, Sarah Downie, Tammy Ferrier, Lydia Meredith, Megan Malcolm, Skye Weaver
Lewis Strachan, Jake Innes, Ewan Gordon, Tyler Robbie, Glen Mitchell
P5
Isla Mutch, Eilidh Craib, Sophia Gibb, Michella Chalmers,
Callum Gordon, Kyle Shepherd, Toby Holroyd, Keiran Lyons, Lachlan Grady,